Racelogic Video VBOX Lite 2-Camera System:
You want immediate and dramatic improvement? Bottom line...this may be the best system ever.
State of the art in-car video and data recording
AVI format, DVD quality with automatic data overlay
Two-camera and four-camera systems
Four CAN channels standard
SD Card digital logging and USB 2.0 interface
Stereo audio recording

Powerful driver analytics software
Free circuit maps in the database, easy creation
10 data points per second (10 Hz) GPS recording
Automatic start-stop based on pre-set speed
Customized screen graphics using standard graphic formats
Simple plug-and-play installation
Many systems can record video and data...not with the elegance and revealing analysis you get with the Video VBOX systems. The automatic data overlay, combined with "Circuit Tools" data analysis software, really tells the full story. Now available, the Racelogic Video VBOX line is the same professional-level technology used by all major vehicle manufacturers and top race teams worldwide.
Easily compare two different drivers, in completely different cars, or the same driver, to previous laps or sessions. We love this system and highly recommend it for its accuracy, delivery on promised features, operational ease-of-use, and quality.
Is the driver being smooth? Using the tires properly? In fast, out backwards? Throwing it into the corner, or turning in too early? Getting to the throttle soon enough? Do you need 10Hz timing on an open road course with a different start/finish line, as opposed to a closed-loop course? The Video VBOX will show you how to knock seconds off lap times for an average driver, and help find tenths for a pro.
Use the second camera as a picture-in-picture display. Show the driver's feet and hands, capture video of your passenger, point it at the suspension, or rearward to see what's going on behind. Use the setup software to insert your own graphics into the scene. Multiple graphic formats can be used for gauges, backgrounds, text, etc., to customize your final video. There are over 130 tracks in the database. Easily add yours, if not already included.
Configuration: The Video VBOX Lite 2-Camera System comes with two cameras, two very solid suction-cup mounts (one specifically for a front windscreen), a cigarette lighter power cable, a strong, magnetic-base GPS antenna, a USB cable, and a 4Gig SD card (almost 2 hours). Optionally, choose the package that includes the OLED Display and save over purchasing separately.
Setup takes less than five minutes and all components are available individually. In addition to the items below, there are many options for installation, for acquiring CAN data, a 20Hz GPS, and systems (VBOX Pro) with up to 4 cameras. Contact us to discuss the right configuration for your application.
Options include:
Optional In-Car OLED Predictive Lap Timer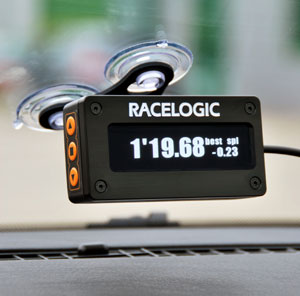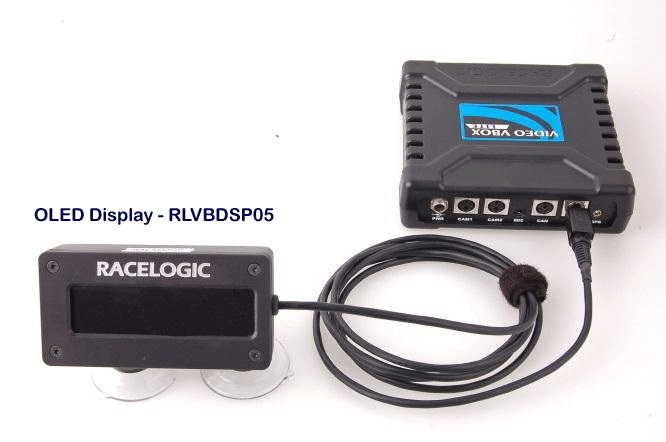 Video VBOX System - Bundle Options